Facebook and Instagram's parent company Meta has started rolling out the "Verified" badge as a subscription to all users across the world. Bangladeshi users are also eligible to pay and get their personal Facebook and Instagram profiles verified. The service is called "Meta Verified," and here's how to verify your Facebook and Instagram profile in Bangladesh.
What are the benefits of Meta Verified in Bangladesh?
For some people, just getting a blue verification badge may be worth the monthly cost. But for many others, it's the fact that you can get access to Facebook/Meta customer support if you subscribe to Meta Verified.
As I wrote in my previous post, Facebook has become an essential part of life in Bangladesh. And if something were to happen to your Facebook account — hacked or disabled for some reason — having access to a human support agent at Facebook can be a real lifesaver. That's what makes Meta Verified worth it for me.
Here are other benefits of subscribing to Meta Verified:
How to buy Meta Verified for Facebook and Instagram in Bangladesh
You can subscribe to "Meta Verified" for Facebook and Instagram profiles both from your Android or iPhone devices. But it's cheaper if you subscribe through the web (on a web browser).
That's because Meta has to pay the app store platforms (Google and Apple) a fee for every subscription, so they jacked up the price to compensate for that. If you're planning to pay for Meta Verified, you'll get the best price on the web.
So, use a web browser and log into your Facebook account first. You can use a web browser like Google Chrome on your mobile phone. You don't have to use a computer for this.
Also, make sure that the Facebook or Instagram app is installed on your phone. You'll need it to upload pictures of your ID card for verification.
Then follow these simple steps:
Click here to go to the Meta Verified screen on the Account Center.
Tap on the profile that you want to buy Meta Verified for. If you have multiple Facebook or Instagram accounts, tap the one you want to verify. It should say "Meta Verified Available" below the profile name.
On the next page, you'll be able to enter your debit/credit card details for the payment.
After successful payment, a notification will be sent to your Facebook/Instagram mobile app. Tap on that notification to proceed.
Take photos of your ID card. You will be able to choose from common government-issued photo ID like Driving License, National ID, and Passport.
After you've taken and submitted both sides of the ID, Meta will take up to two days to review it.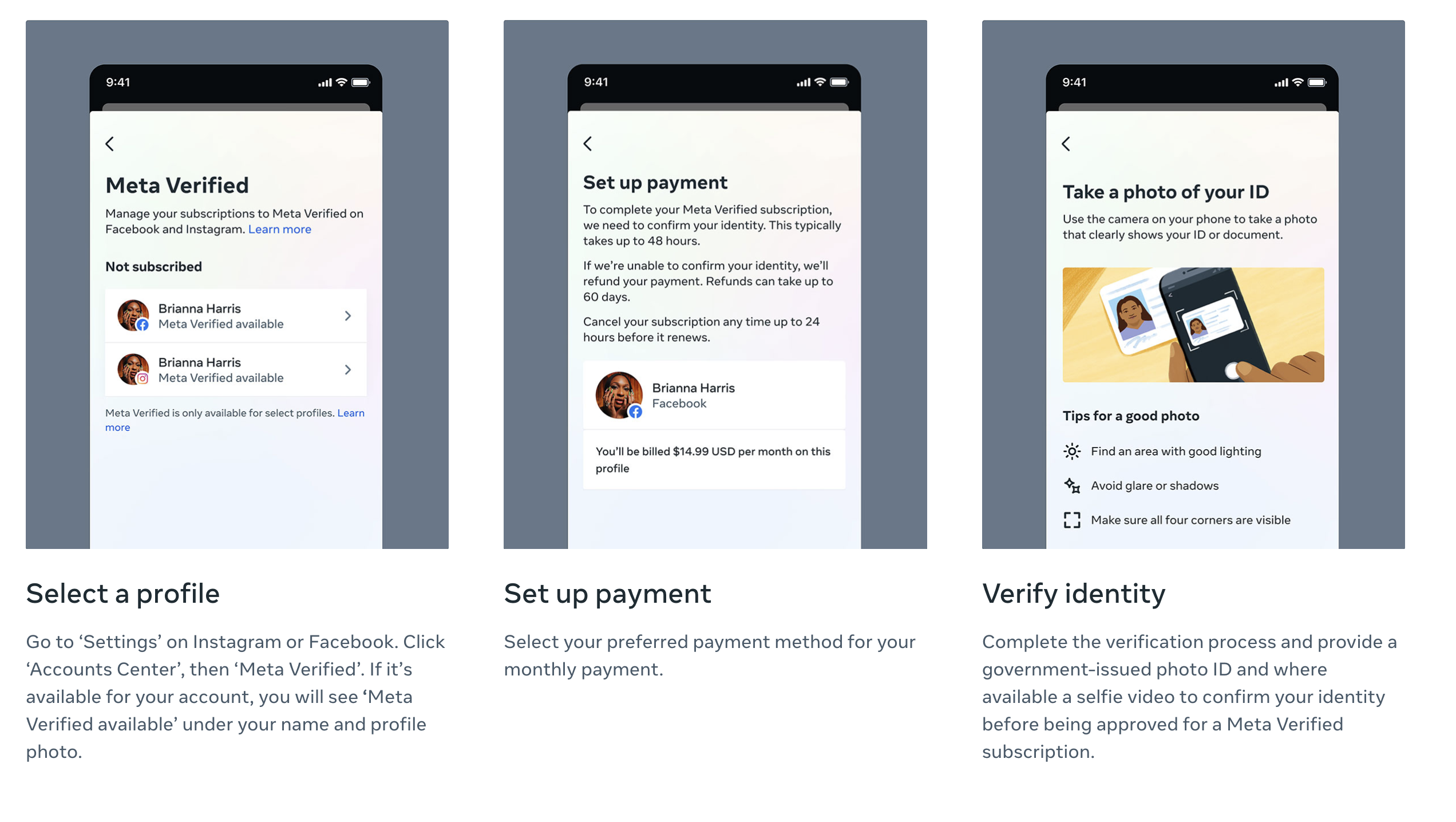 If the ID submission is approved, your profile will be "Meta Verified," and you'll have access to the Meta Verified benefits as well as the blue verification badge next to your profile name.
---
Frequently Asked Questions
Do you need to buy Meta Verified for Facebook and Instagram separately?
Yes, you'll need to subscribe to "Meta Verified" separately for every Facebook and Instagram profile separately. Subscribing to Meta Verified for your Facebook profile will not verify your Instagram account and vice-versa.
What kind of ID card is accepted for Meta Verification in Bangladesh?
You can use your smart National ID, passport, or driving license to verify your Facebook or Instagram account after paying for Meta Verified.
Your payment will be refunded if the verification is not successful.
How do I pay for Meta Verified in Bangladesh? Are Bangladeshi debit and credit cards accepted?
Debit and credit cards issued by Bangladeshi banks can be used to subscribe to Meta Verified, which adds the blue verification badge to your Facebook and Instagram profile.
However, even though the pricing will be displayed in Bangladeshi Taka, your debit or credit card must have 'dual currency,' and the foreign transaction must be enabled on the card. You won't be able to use any card that doesn't have a foreign transaction capability enabled.
Which debit/credit card can I use in Bangladesh to pay for Meta Verified?
Any debit/credit card from any bank that meets the following criteria can be used:
Dual-currency debit/credit card
Endorsed on your passport
Foreign transaction part is enabled
How much does Meta Verified cost in Bangladesh?
The international pricing for Meta Verified is $11.99 per month. Although that translates to about 1300 Taka in today's exchange rates, you would actually pay less than 1000 Taka, as folks from Bangladesh reported seeing $6.99 per month.
The amount will be displayed when you go to this link and tap on a Meta Verified Available profile.